All projects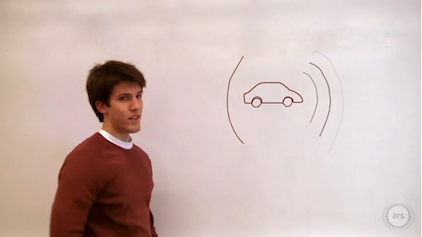 The Doppler Effect
making science fun
Direction, Cinematography, Editing & VFX
collaborators:

Noam Rubin, Theo Thompson, Eerik Helmick, Hari Iyer, John Paton & Vidie Pong
Learning science from a textbook is usually pretty boring. In 2010, Ars Technica hosted a competition to solicit science explanations that high school students would actually enjoy.
During my first year at Olin College of Engineering, I created and led a small team to make The Doppler Effect, a fun educational video that explains why the sounds cars make on a highway change pitch as they pass by. We became the winners of the Ars Science Video Contest, Physical Sciences Division.
Since then, it's been used in several high school classes.
Technical Details
Cameras: Canon VIXIA HFS20s
Microphone: Samson Zoom H2 Recorder
Video Editing Software: Final Cut Studio (on a single MacBook Pro)
Music Production Software: Garageband and Logic Express
Image Editing Software: Inkscape and Adobe Photoshop